When the mind awakens to the Mindful Point Zero...
This AlphabeT goes from A to T (Aleph to Tav) as a PAIRfect SEXY language to lead the Queen and King in you into the QKingdom. Its 22 regular letters go by double PAIRS (4) like your DNA does, each endowed with the mission to open balanced pathways in right and left brains, thus creating a bridge to the heART. Once IN-LOVE (K in Q), your doing, sustainably coming from being, can only be "crowned" with success. That honoring of the feminine is illustrated in the Hebrew word QKabbalah meaning "receiving," or Grace On Demand (GOD). Coming from sanctuary, your word IS so REAL it creates as you speak.
.......................................................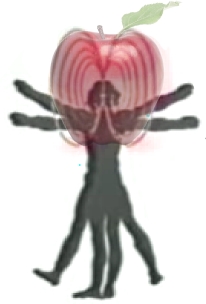 Living Apple-lidge............ Eastern Buddha meets Western Christ:
>...........................The Living Apple-like Bridge in the Human Brain
10 keys are needed to unlock the 2/2 code of the divine: they are given to you now in the form of the Noble Wheel (1 rim 1 hub 8 spokes) of a Sublime Chariot moving as the GOD technology through you!
The 10 Letter-Keys cover the 10 digits, from 0 to 9:
10 equals 2 PAIRS of Master-Letters (BL/AT) representing the whole of the 22 letters, plus 5 Double Letters called "Finals." Finals refer to letters that take on a different value and shape, when placed at the end of a word. They are also "final" psychologically as they bring the redemption of ego identities. As for the 1 Final-Final letter, it was predicted to be visible only at the shift of the ages, when the mind awakens. At that time, which is quantified by science as being almost in the now, the magnetic field of the Earth will register a drop quantified as Point Zero. That perfect point of polarity is behind the magical square of 9 numbers as the number zero!
Click here to see how the square to be magically adding to a 15 in all directions can only have for center the number 5. Within that square is also inscribed a circular wheel, whose hub is also a 5, whose rim is 0 and which has 8 numbers/spokes. As a wheel and will, it moves on the paths of the Torah (also meaning "the way"), going from the first PAIR of the NoBLe Truths (BL) to the last PAIR (LB), with the Eightfold NoBLe Path in between. From the numbers, it is clear that the central discipline is given by #5 as Right Intention. It is also clear that to maintain such discipline, the #0 of Just Mindfulness is essential. This is how Hebrew NoBLe completes exactly and in a timely manner the Buddhist Noble Way: at last LOVE is ONE, at last balance between West and East, electric male and magnetic female is possible!